English for the 21st Century Skills – New Book!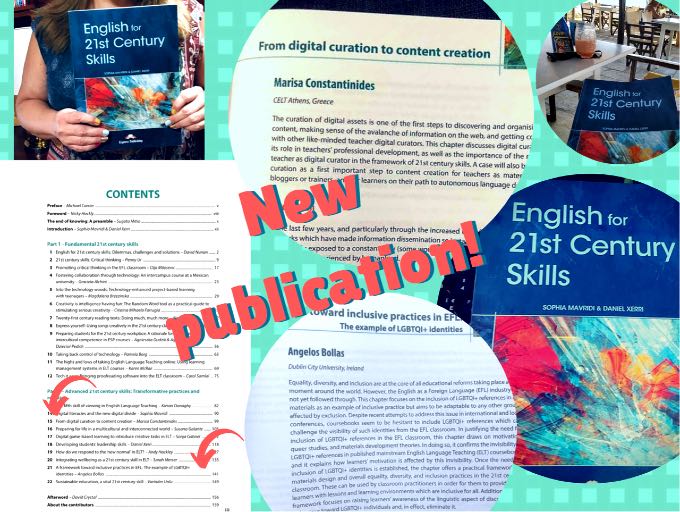 We are pleased and proud to announce that we have contributed chapters in the recently published volume on 'English for the 21st Century Skills' edited by Sophia Mavridi and Daniel Xeri. It's a great volume with expert contibutors from around the world, prefaced by Sugata Mitra and with a great Afterword by David Crystal. Two of the chapters have been contributed by CELT Athens tutors! We hope you will order it and take it with you on holiday (as one of our colleagues has fone above!) and enjoy the breadth and depth of the contributions! It was published by Express Pubications and you can buy it here.
New Dates & New Courses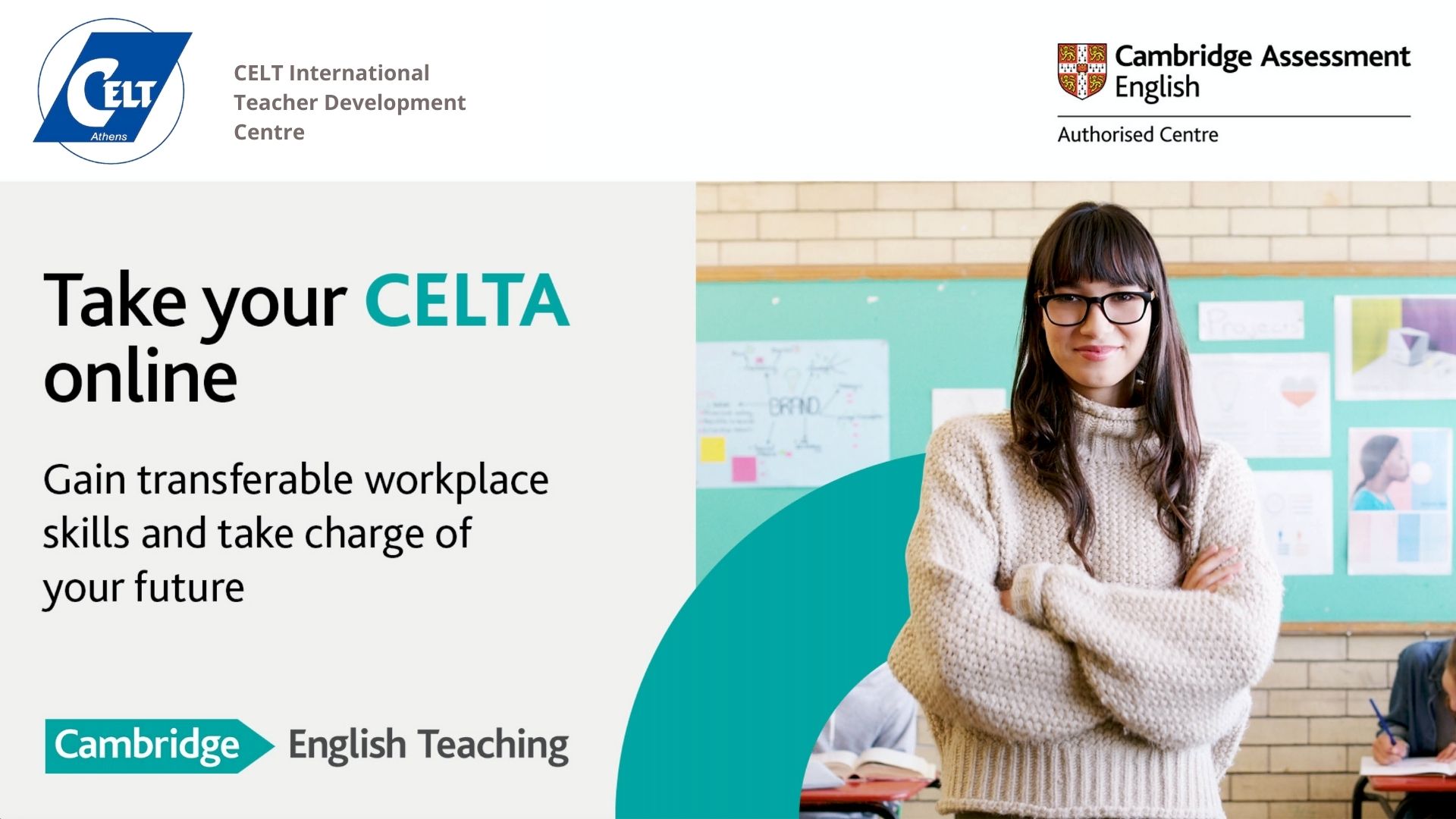 Follow a Cambridge CELTA Fully Online
We are pleased to announce that we will be able to continue offering fully online course until the end of the year – then we shall see! Please click the button below to review details of attendance and dates and tuition for our upcoming fully online CELTA courses Upcoming courses
September 1 – December 1 2020
October 5 – December 18 2020
December 1 2020 – March 5 2021
More about the CELTA


Our Integrated 3-modules Delta Online & in Athens

Our online/blended course enters its 8th year with more than 200 trainees completing it in synchronous sessions with audio & video. Module 2 assessments can be done in Athens at times convenient to you.
Impotant new feature: We can send tutors to some locations for observations. Please get in touch with us to find out if a Delta tutor is available in your area!
Upcoming courses
October 26 2020 – March 19 2021
December 1 2020 – May 28 2021
More about the all modules Delta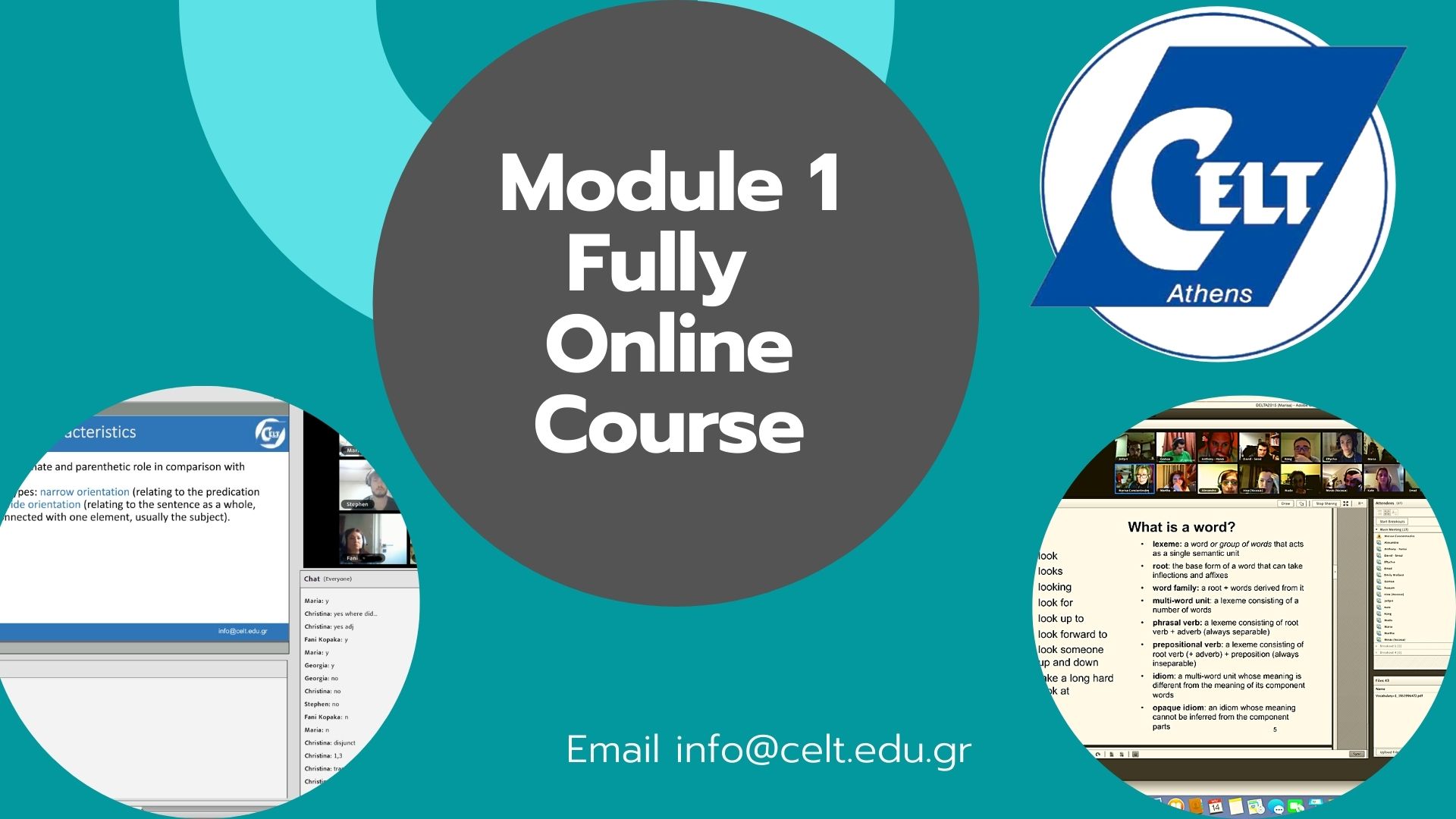 Our Fully Online Module 1 course Begin your journey towards obtaining the prestigious Delta Diploma one Module at a time – Module 1 is a great basis for all the other modules, which is why Cambridge suggests this should be the first module to complete. Join our fall course beginning in October. Sessions are live in our interactive online classroom but study and exam preparation is supported by a thorough asynchronous course.
Upcoming Courses
October 26 2020 – March 17 2021
December 1 2020 – May 26 2021
Find out more about Module 1


Teaching Young Learners & Teens

Our Young Learners' & Teens course is delivered fully online and the participants can drive the content to include topics and materials which are of interest in their current teaching situation. In the 20 hours of the course, a wide range of topics is covered. The course is ideal for CELTA (or equivalent) trained teachers who need a short top-up to get ready for teaching positions where the majority of the classes are primary school children or teens. Upcoming Courses September 3 – November 5 2020January 11 – April 16 2021
Learn more about our YL course
Module 3 Support & Courses
If you have completed your Modules 1 and 2, you may be looking for Module 3 support. We understake to support most specialisms in the following list – do please get in touch to discuss your M3 assignmemt focus!
Option 1 (Extending Practice & ELT Specialism)
Option 2 (ELT Management)​Click on the links to learn more about the two different strands and to choose your preferred option.
Upcoming Courses
September to December Exams 2020
March to June 2021
Grammar for English Language Teachers
Are you sometimes worried about your knowledge of English Grammar, especially when teaching advanced classes? If you are interested in developing your knowledge of the Grammar of English to a higher level, we offer a short course starting in September. The course will not only help you explore major language areas but will also cover methods and techniques of teaching grammar
Upcoming Course
September 4 – November 6 2020

Teaching Languages Online
Whether we like it or not, remote teaching is here to stay, so let's make sure we use it confidently and competently! We are offering this short course to all candidates for CELTA or Delta courses. The course is ideal to prepare you for teaching online and is free of charge for our own candidates. Join us to enrich your repertoire of tools and skills for the 2st century!
Upcoming 5-week Courses start on
August 24
September 21
November 14
Find out more here


We are back!! Our next monthly free webinar
The major change from offline to online stopped us from offering our very popular monthly webinars. It did give us many new concerns, raised many questionss and inspired new ways of solving problems related to teaching and learning online – once more, we are ready to share with our community,
Upcoming Webinars
August 21 – Sharing materials with learners in Zoom and similar
Topics to be announced on our page here
Click here for more
Qualify with a Cambridge Certificate or Diploma
The last few months have tested the whole of humanity and yet, teachers are still dedicated to learning and helping others learn! Our online courses have been very successful in maintaining the learning efforts of many teachers around the world as well as giving them new skills for the new era of remote teaching/online instruction which seems to be emerging because of the pandemic.

Following a Cambridge qualification course will help you with the new demands in our profession. Or, you may just need a top up course, such as learning Grammar in more depth, specialising in Teaching Young Learners or becoming an ELT manager, a position many Delta holders find themselves in. Have a look below and even if you cannot attend a course right now, keep in touch through our monthly webinars which are starting again in late August, and joining our vibrant communities on Facebook, Twitter and LinkedIn!
CELT International Teacher Development Centre